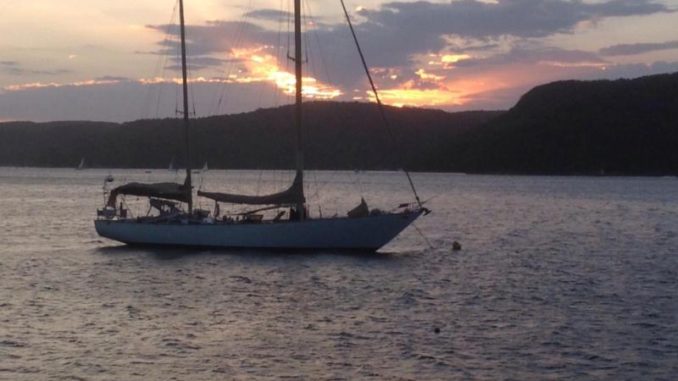 BY IAN WISHART
A long running conspiracy theory about the mystery ketch in the Scott Watson murder case has finally been debunked.
A group of sailing enthusiasts calling themselves the Maritime Research Group have claimed for a decade to have investigated the so-called mystery ketch, and identified it privately as an overseas ketch called "Antares".
Scott Watson's family wrote on their website: "The name on the vessel may have been "Antares". It may also have had "Australia" on the stern."
InvestigateDaily can now confirm it's a massive case of mistaken identity.
According to a series of videos and a report by the MRG, a former police officer saw a ketch called Antares berthed at the Napier wharf in NZ weeks after Ben Smart and Olivia Hope disappeared. When the MRG heard rumours that a ketch called Antares had been involved in drug running via French Polynesia, they assumed they had found a drug gang sailing around NZ. The story made front page news in January 2016.
Sadly, their investigation work appears to have been shoddy.
While there was a ketch by that name involved in a record 1998 drug bust, its involvement was innocent and it did not come to New Zealand.
The Antares was a restored 20 metre 1972 Italian wooden ketch, purchased in the mid 1990s by an Australian couple, artists Laurence and Tanja Crooks, who were then living in Florida with their four young children. The vessel underwent a two year refit. The family's dream was to sail it back to Australia, Tanja told a NSW interviewer:
"'After a two-year restoration of a wooden boat, we set sail together. From the east coast of the US, we sailed through the Panama Canal via the Caribbean before venturing out across the Pacific Ocean. Our boat arrived in Australia in 1998, now a family of six and a dream realised."
Except, that's the short version. Cruising World Magazine in 2000 published an article on the Crooks' "adventure" in the Antares where they inadvertently hooked up with a drug boat shipping Colombian cocaine to Australia. It was the second boat, Maeva Chiqui, that was being sailed by drug smugglers, not the family vessel Antares.
"WHEN LAURENCE AND TANJA CROOKS AND their four kids embarked on a dream to sail the world aboard Antares, a 62-foot ketch, their plans didn't include participating in Australia's biggest drug bust," reported Cruising World.
"But so it went, and the trusting Florida family unwittingly became the temporary cover in a tandem crossing with a 56-foot boat modified by smugglers to conceal its cache of nearly 500 pounds of high-grade cocaine, worth more than $50 million.
"They didn't realize it at the time, but the Crooks' troubles began at a bar in Panama, where they met the real-life crooks, who identified themselves as delivery skipper Gregg Meggett and broker Bob Flavel. Meggett said he was delivering Maeva Chique [sic, actually Chiqui] to its new owner in Australia; Flavel added that he was overseeing the voyage as agent. But their stories were a ruse. The pair were actually working for a Colombian drug cartel and had sailed the boat from Venezuela to hook up with their Aussie distributors.
"Antares and Maeva made a stop in Tonga, where the drug boat took on unsuspecting crew: two US citizens who were hitchhiking their way around the world's exotic ports. The backpackers and the Crooks apparently didn't know their new friends well enough, because two days after clearing at Coffs Harbour International Marina in December 1998, undercover Aussie authorities, dressed as sailors, raided Maeva Chique and arrested Meggett and Flavel, who'd been the focus of an 11 month investigation. The cocaine had been stored in 1 kilogram blocks in the hull of a Boston Whaler, which was transported on a platform off the boat's transom."
Like any family sailing the world with their four young kids, the Crooks were shocked to discover they'd befriended actual crooks and never known. But it also puts the lie to conspiracy theories about the drug ring putting civilians to death – they picked up two hitchhikers in Tonga who never once realised they were on a drug boat!
It was not the Antares involved but Maeva Chiqui, a Cheoy Lee 52 Midshipman, as the Cheoy Lee owners association in the US announced soon after:
"Maeva (Cheoy Lee Midshipman 52) was recently seized in Australia following a failed attempt to smuggle $50 million worth cocaine. The following sites have articles about the event.
"Regards, Gavan Scott.
"Here is one of the articles that Gavan sent us, guess not all Cheoy Lee owners are people we want as members. Gavan is looking for any other information on Maeva people may have. He has purchased her at public tender. james…"
International cocaine smuggling operation
A major investigation involving a combined task force of more than 100 Customs officers and Federal Police agents has resulted in the arrest of persons believed to be part of an international cocaine smuggling operation which has previously imported large quantities of cocaine into Australia.
Around lunchtime yesterday, 225kg of cocaine was seized from a runabout associated with a (Cheoy Lee) yacht moored at Coffs Harbour on the NSW North Coast.
Four people – three men and one woman – have been arrested.
This is the largest cocaine seizure in Australia's history. The previous largest single seizure was 174kg in 1994.
Operation Gentle commenced following Customs inquiries into a suspicious vessel that had arrived in the NSW port of Forster from overseas in February this year.
Federal Police inquiries revealed that more than six million dollars, allegedly the proceeds of cocaine sales, had been transferred out of the country by people believed to be connected with the vessel.
Further investigations revealed another plan by this syndicate to import a large quantity of cocaine by yacht from South America. The syndicate members included an Australian man, a Spanish woman and a Miami-based expatriate Australian.
Federal agents monitored the movements of the suspects in Australia which led to the identification of the yacht, Maeva Chiqui, allegedly used to transport the drugs across the Pacific to Australia.
Extensive surveillance by Customs Coastwatch aircraft and Customs marine fleet vessels tracked the yacht's approach to Coffs Harbour. It is alleged that the 18-metre ketch was sailed by a crew of three from Venezuela via Panama to the Marquesas Islands and Tonga to Coffs Harbour.
The cocaine was allegedly hidden in the hull of a small runabout that was transported on the deck of the yacht. The arrests were made when this runabout was loaded onto a boat trailer and the alleged importers attempted to leave the scene. They were arrested and charged with importing a prohibited import.
AFP forensic staff then commenced a detailed deconstruction of the runabout to recover the drugs. The concealment was very sophisticated.
Three men and one woman were due to appear in court in Coffs Harbour this morning.
Significantly, as the photos prove, neither the Antares nor the Maeva (like the Cheoy Lee 52 in this image) have portholes. Both vessels are far too large to have been mystery visitors to Furneaux, and far too high for Ben and Olivia to have simply "stepped" onto in the dark.
After a court appearance on 8 December 1998, Reuters reported:
AUSTRALIAN POLICE SNARE MAJOR COCAINE SHIPMENT
SYDNEY, Dec 8 (Reuters) – Australian police on Tuesday charged three men and a woman for the country's largest cocaine importation, worth A$50 million (US$31 million).
Police seized the 225 kg (496 pounds) of cocaine from a yacht off the mid-east coast town of Coffs Harbour on Monday.
On Tuesday, Robert Flavel, 28, of the United States; Beatriz Suarez, 38, of Spain; Gregory Meggett, 28, of South Africa and Australian Jose Vaquere, 34, appeared in the Coffs Harbour Local Court charged with importing cocaine.
Vaquere was also charged with money laundering.
Police said more than A$6.0 million, alleged proceeds from cocaine sales, had been transferred out of Australia by the group.
Police told the court that the group used the 18-metre (59 feet) yacht Maeva Chiqui to smuggle the cocaine from South America, via Panama to the Marquesas Islands and Tonga in the South Pacific, then on to Australia's mid-east coast.
The cocaine was allegedly found in the hull of a small boat attached to the deck of the yacht.
The four were remanded to reappear in the Coffs Harbour court next Monday.
No pleas were entered.
A nine-month undercover investigation involving some 100 officers had also seized almost $600,000 linked to the drugs, AFP General manager Bob McDonald told reporters in Sydney.
A further $6 million in laundered funds – thought to be proceeds from a previous importation – had been traced to Hong Kong, Canada, the United States and Spain.
"Its a massive international drug syndicate behind this operation," Mr McDonald said. "And while we believe we've dismantled it, there are several principals that we would still like to bring to justice.
"We will not be leaving a stone unturned in our pursuit of them."
Operation Gentle began following inquiries into a suspicious vessel [Tuareg] that arrived in Forster, also on the states mid north coast, in February.
It was learned people connected to the boat had allegedly smuggled massive amounts of cash out of Australia through Adelaide.
Further investigations revealed a plot to import cocaine on board the now-seized ketch, Maeva Chiqui, probably with the intention of distributing the bulk of it in Sydney.
AFP officials believe the craft left Venezuela some weeks ago, passed through the Panama Canal and stopped off at the French-controlled Marquesas and Tonga.
An undercover federal agent also infiltrated the Spanish-based couriers during a brief stopover on Lord Howe Island.
Self-styled 'adventurer' Seth Tyler crewed on Maeva, unaware of the narcotics according to his blog: "Sailed the Maeva Chiqui, a 56-foot yacht, from Panama City, concluded delivery four months later in Coffs Harbour, Australia. The journey took us to the Galapagos Islands, Nuku Hiva, Marquesas, and the Kingdom of Tonga. A lightning strike soon after leaving Panama complicated the 10,000 nm passage, leaving us with only rudimentary electronics, and weakened rigging."
The crew of the Maeva Chiqui had been under Australian police surveillance since February 1998. Unless the Maritime Research Group can prove there were two wooden ketches called Antares sailing the Pacific in 1998 and associated with cocaine smugglers, it looks like it's game over for the conspiracy theory. Antares has been identified. It is owned by a couple of Aussie artists who had four young kids with them. They'd lived in French Canada, then Florida, and travelled via French Polynesia and Tonga. They were not involved in the disappearance of Ben and Olivia.
As Laurence Crooks reveals the boat Antares is a classic:
"I was in the Virgin Islands with my family when a friend Gage Powell from Irwin Yachts called to say he had a yacht called "Chardonnay" for me to look at. I took a quick flight to South Carolina where she lay in the water and the offer was presented. So began the refit of a 1972 66ft Italian built wooden classic. The Italian world sailor Renso Favaro from Venice pulled in beside me on his yacht "Falconare" during one of his circumnavigations and commented on the fact that he knew the yard where "Chardonnay" was built. After a little investigation we discovered her original christened name: "Antares". Over a period of 2 years we rebuilt all the mechanical systems, stripped down and rebuilt the rigging and as it was the beginning of hurricane season we decided to sail her south to do some hull work where we could source some good seasoned timbers. The voyage has so far taken me half way around the world."
Their boat is currently for sale on the Gold Coast.
Make an offer. And if you keep naming their boat in connection with a double murder, they may sue you. Don't say you haven't been warned.
POSTSCRIPT:The Maritime Research Group conspiracy theory arose from a ketch sighting at the Napier wharf in 1998, weeks after Ben and Olivia disappeared. The sighting was credible, involving a former police officer who noted the name "Antares". From this sighting, the MRG appear to have constructed an elaborate theory that reached out to encompass the Australian "Antares" because of its "drug" links.
Yachtie Graeme Butler reported today he knew the owner of Antares in Napier, and that it had long been a local boat and still is. There are even Youtube videos of presumably that Napier Antares sailing to nearby Cape Kidnappers. It, too, is a family owned ketch.
Bang goes the Maritime Research Group and their tinfoil hat theory.
The MRG video no 3 reveals how Warwick Jenness and colleagues made their dreadful mistake. The yacht had been seen at the wharf near the Napier Sailing Club. What they failed to find out (or they would have revealed it in their report and videos), is that the Napier Sailing Club was the regular berth for former Navy man Keith Kennedy's 12 metre ketch Antares, launched at Napier in 1964:
Kennedy remained the owner until his death last decade, when the Antares was sold to Napier man Rex Smith, and features in the Youtube clip above.
The Antares has been Napier-based for the past 53 years, for much of that time in precisely the spot where it was seen in 1998. It was not involved in the Watson case, and the three part video series from the MRG based on drawing these two "Antares" ketches into one fake composite turn out to be utterly and totally wrong.
Smith provided pictures of Antares now:
POST-POSTSCRIPT:
5 July 2017, Warwick Jenness of Maritime Research Group stated "Antares is a very common name for yachts in particular. We identified and investigated nine yachts carrying this same name during the course of our investigation in 2004."
To which InvestigateDaily made the point: "You investigated NINE yachts named Antares and forgot to mention the only one linked to Colombian drug smugglers, a skipper from French Canada, a rendezvous in French Polynesia and Tonga. And then, get this, you built your entire case around a singular Antares sighting at Napier without mentioning the Antares was a Napier based ketch owned by family interests. Impressive. No wonder the internet is one hand clapping the MRG videos."
11 JULY 2017:
The MRG, in an email to InvestigateDaily, recount the sequence of events this way:
"In January 1988 the watch house at Napier received a call from the Manager of the Napier Sailing Club that a yacht matching the description of the yacht sort by NZ Police had just tied up at the public berth in front of the the club house. The responding officer in his statement confirmed he boarded the vessel and recorded details including a general description and vessel name before returning and forwarding his report on to TAM.HQ. The Manager of the Napier Sailing Club who was also present was very familiar with all the yachts and launches in the Napier basin and surrounding district and he stated he had never seen this particular yacht before and in 2003 confirmed he had never seen it again following that incident. There are many yachts and launches called Antares however this particular ketch was quite unique easily identified and considered to be a one off build."
Sounds plausible, but the MRG got its facts wrong. I've now spoken to the then-manager of the Napier Sailing Club, Murray Choat, who recalls a distinctive ketch arriving for a day, filling up with stores, and then departing, with "three Danish crew" on board.
"This was before the Scott Watson thing happened," he explained. "It had been and gone. It wasn't until all the eventual publicity about a ketch that we wondered if this might have been the boat." That's when the police were finally called.
"The boat had long gone."
So a police officer turns up at the wharf, finds a ketch called Antares with no one on board. As we now all know, it is not the ketch they were looking for, nor was it the one that had been visiting the Port of Napier a week or so earlier. So this whole conspiracy theory about Antares is based upon the sequence of events being recorded wrongly by the MRG. The boat had NOT "just tied up". It wasn't there. It was old news. When police went down to the club to talk to them about what they knew, the officer checked out the old Antares nearby, and filed a report on that. And MRG linked that Antares to the drug ring bust involving Antares, and got it totally wrong.
There is no evidence this other ketch had anything to do with the Watson case. No police officer boarded it. They couldn't have. It wasn't there.
To add to the possible mix up, police received a tip in April 1998:
"Mr BLACK advises that in the 1960s he helped build a 40 ft odd boat which was rigged as a ketch. The ketch was distinctive in that it had a rounded transom, i.e., the boat looked double-ended. He supplied a newspaper photograph of a vessel taken at the time. He now keeps this photograph in a scrapbook. I photocopied the photograph and please find it attached."
We are awaiting confirmation that the news clipping is the Antares.
THE NOUMEA CONNECTION
The MRG videos claim the drug ketch was purchased in Noumea in November 1997. This is a 1+1=3 moment based on a document in the police file, which mentioned a possible ketch purchase:
"I have alerted friends of mine who have been sailing in the South Pacific for the last two years – they sailed through Noumea in November and then on to NZ in December, leaving their boat in Auckland and flying home to Seattle.
"Frederic has just called me with some information which may be very important. They cleared Customs in the Port of Tanna, Noumea at the same time as an elderly Canadian couple cleared Customs. Their boat was a downeaster 30 ketch – white hull with a blue stripe and round portholes (Island Girl/Gypsy). Soon after they cleared a scruffy bearded man approached them to see if they would sell their boat. They sold the boat to this man and the bearded man hastily provisioned the boat the next day. The Laffitte family last saw the boat anchored in front of Noumea Harbour Master's office at Port Mosselle (early November). The flag had been changed from US or Canadian to French."
I spoke to Tim Barnett, a Blenheim businessman who gave police the tip. There was no evidence of a drug link. There was no evidence the boat was named Antares. It was just that a bearded sailor had purchased the boat.
I spoke to the Laffitte family in the USA. The name Antares was not one they remembered, nor did they have anything they could add.
That didn't stop MRG from turning this tiny incident into "the" mystery ketch Antares being purchased by drug runners from Canadians in Noumea.
Incroyable!